Unable to attend but would like to support the event with a donation? Simply click the Donation button to contribute.
Prefer to mail in your reservations? Click below to download forms.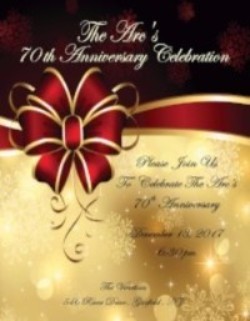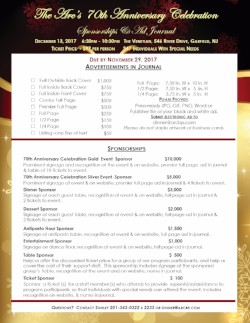 Join us to celebrate The Arc's 70th Anniversary  and kick off this year's holiday season!
The celebration will take place at the Venetian in Garfield on Wednesday, December 13th. You and your guests can plan to arrive at 6:30 pm and enjoy a wonderful evening in the beautiful Palazzo ballroom.
Tickets:  Tickets include an appetizer hour, dinner and dessert. Cash bar will be offered throughout the evening for your enjoyment. Cost is $97 per person and $47 for individuals with special needs. 

Sponsorships and Ads: Help make The Arc's 70th Celebration a success by sponsoring the event or purchasing an ad in the commemorative journal
Reserve & Purchase: On- Line by clicking the button above or by mail simply download the mail-in form and send it with your check according to the instructions on the form.
DEADLINE NOVEMBER 29,2017
Questions? Please contact  Shirley Williams at 201-343-0322 x 2233 or dinner@arcbp.com
Leading the Way Since 1947
Thank you to our 70th Anniversary Celebration Sponsors!
Dinner Sponsor  Anonymous     
Dessert Sponsor  Thomas O'Brien
Entertainment Sponsors                           Scirocco Family
OritaniBank Charitable Foundation
Hors d'Ouevres Sponsor                        Betty Hoehne      
Hot Appetizer Sponsor                               The Venetian
| | |
| --- | --- |
| Table Sponsor | Mimi Weis |
| Table Sponsor | Anonymous |
| Ticket Sponsor | Parian & Sons |
| Table Sponsor | Anita Kaloyerakis |
| Table Sponsor | Schenck, Price, Smith and King |
| Table Sponsor | Dr. & Mrs. Cappodonna |
| Ticket Sponsor | Nassor Electrical Supply |
| Ticket Sponsor | Constance Peterson |
| Ticket Sponsor | Lindsey & Craig Bell |
Sonsorships Still Available!